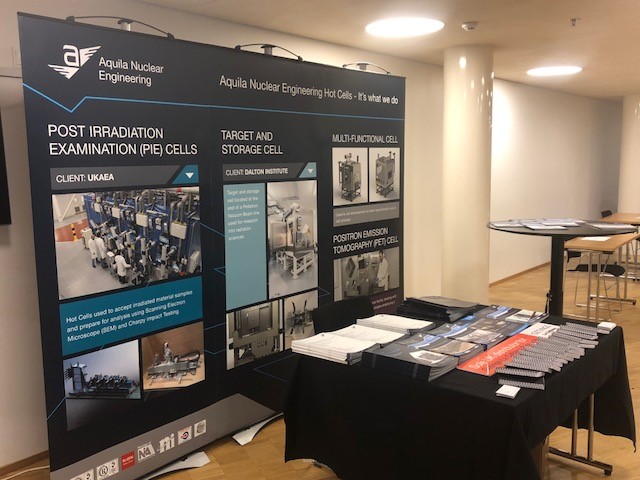 Aquila Nuclear Engineering Ltd, part of the Calder Group, the £178m pan-European engineering group, has presented at the 55th edition of the Annual Meeting on Hot Laboratories and Remote Handling (HOTLAB) in Helsinki, Finland, hosted by the Technical Research Centre of Finland Ltd (VTT).
Held on 16-20 September 2018 at Helsinki Congress Paasitorni, this was Aquila's fifth consecutive visit to the HOTLAB Conference which has become the major global forum for technicians, operators, engineers, researchers and suppliers, working at and developing nuclear Hot Cell facilities.
Aquila's Senior Mechanical Engineer, Gary Butler, delivered a presentation and technical paper entitled 'Fit For Purpose Design For Remote Operations: Handling The Hot Potatoes', providing an insight into how Aquila has delivered pragmatic, fit-for-purpose solutions to clients facing challenging 'In Cell' projects. Aquila's new Hot Cell-focused exhibition stand provided the perfect platform to engage with delegates and network throughout the conference. The presentation was extremely well received and generated a great deal of interest, prompting a variety of delegates to visit Aquila's stand to discuss the challenges they face and Aquila's capabilities.
The three-day conference included 47 technical presentations, networking & exhibition sessions and a poster session showcasing 23 projects. This was then followed by a technical tour of the brand new VTT Hot Cell Facility and a tour of the Posiva Final Repository.
With over 140 delegates, representing 21 countries, the event offered Aquila a truly global overview of the Hot Cell Market and extensive opportunities to discuss Aquila's capabilities with existing and potential clients. The event also provided a platform to discover how international Hot Cell users are developing technologies, utilising their Hot Cells, and what plans they may have for new facilities.
Aquila is looking forward to next year's HOTLAB being held in Mamallapuram, India.
Read Aquila's technical paper, Fit For Purpose Design For Remote Operations: Handling The Hot Potatoes
For more information, contact Drew Corbett, Nuclear Business Development Manager, Aquila Nuclear Engineering Ltd.