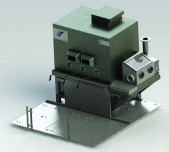 AQUILA AND BD NUCLEAR HAVE AGREED TO WORK TOGETHER IN PROVIDING DECOMMISSIONING SOLUTIONS TO THE NUCLEAR INDUSTRY.
This agreement to collaborate has resulted from an assessment of the two companies' capabilities, market knowledge, decommissioning techniques and complementary skills.
Aquila, is a specialist in the design and supply of containment systems, shielded facilities, remote handling and transport/storage packages.
BD Nuclear, are specialists in providing diamond wire cutting and size reduction techniques, in steel and concrete.
Aquila and BD Nuclear together, can provide bespoke decommissioning solutions to the nuclear industry, combining specialist cutting and size reduction techniques within contained and shielded environments, including remote handling. Both companies follow the same driving principals in designing fit for purpose solutions, competitively and most importantly, safely.
Aquila Nuclear and BD Nuclear, believe that in working together we can offer turnkey solutions to the decommissioning industry within Europe. This joined up approach offers our clients unparalleled access to cutting, size reduction, remote handling and sorting techniques, tried and tested.
OUR CLIENT BASE IS WHOLLY NUCLEAR AND JOINTLY INCLUDES:
Areva
AWE
AMEC
Babcock Marine Development
Cavendish Nuclear
CEA
Costain Nuclear
Dalton Institute
DSRL
Edf
GEHC
Imperial College London
Interserve
Jacobs
Keltbray
National Nuclear Laboratories
Redhall
Magnox
Nuvia
RPS Group
Sellafield Limited
Tractabel
University of Manchester
University of Hull
University of Oxford
UKAEA
The Aquila and BD nuclear teams have undertaken projects at all Magnox sites, Sellafield and DSRL. Both companies have framework agreements already in place at DSRL for size reduction, mechanical engineering and manufacturing services.
APPLICATION SOLUTIONS
We would welcome opportunities from the nuclear industry to engineer total cutting and size reduction solutions from:
Concept
Feasibility studies
Detail design
Full manufacture, assembly and works testing
On site plant installation and commissioning
On site team classified workers-Pressurised suit trained and DV cleared.