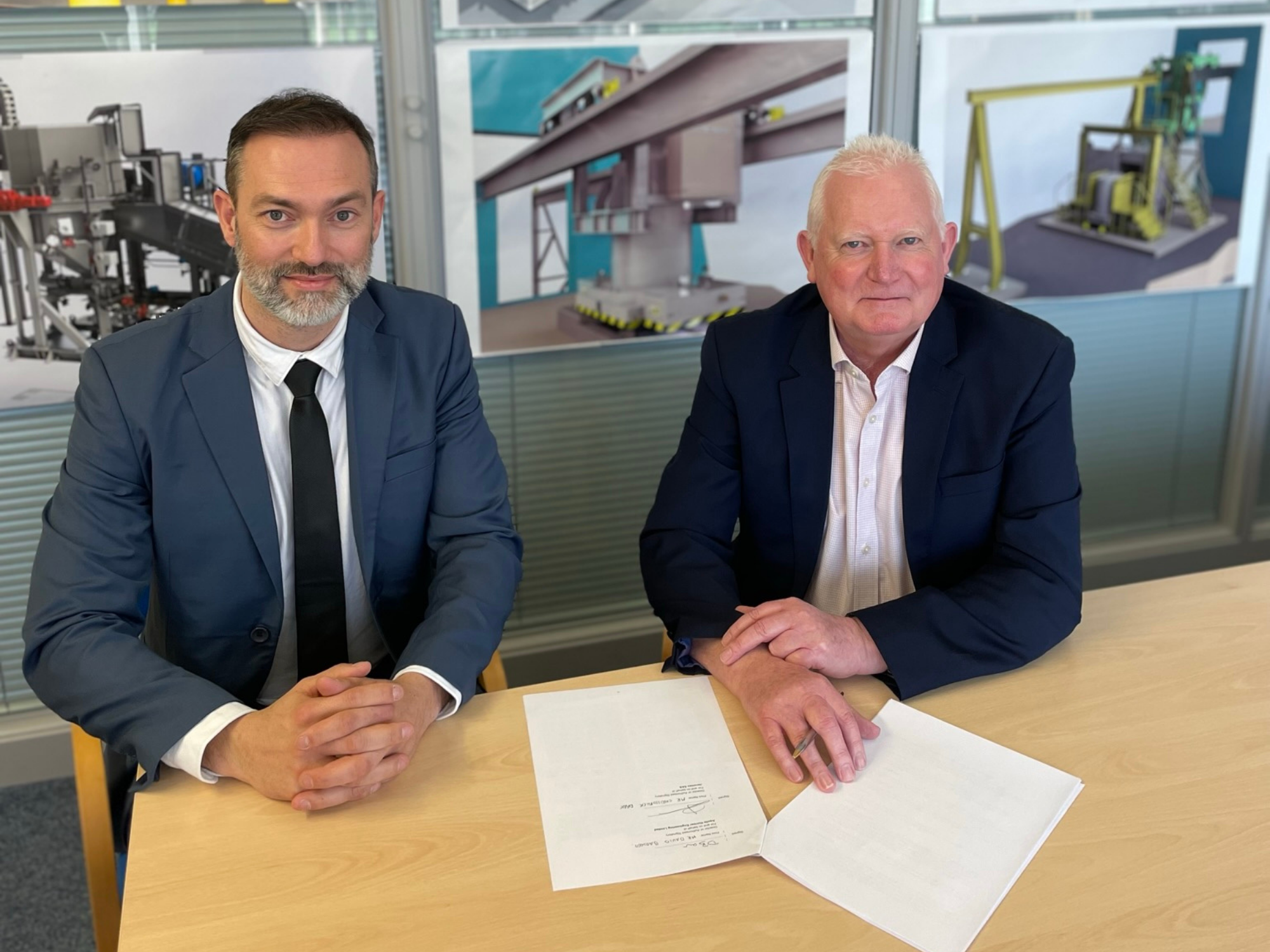 Pictured left to right: Christopher Dane, Director for Business Development, Jacomex and Dave Barker, CEO, Aquila
Aquila strengthens its glovebox capability through collaboration with Jacomex – France
Aquila Nuclear Engineering Ltd has entered an exclusivity agreement with Jacomex – France, enabling Aquila to represent and supply Jacomex custom made gloveboxes to the UK nuclear industry. The agreement is built on exciting synergies shared between the organisations. This collaboration now increases Aquila's capability in supporting the growing demand for nuclear containments in the UK.
On 10 February 2022, Aquila Nuclear Engineering Ltd and Jacomex of France signed an exclusivity agreement making Aquila the exclusive representative of Jacomex custom made gloveboxes for the nuclear industry in the UK. The arrangement excludes laboratory and pharmaceutical gloveboxes.
The agreement follows a period of positive conversations and factory visits between the parties, and further complements Aquila's existing links with France: Aquila is the exclusive UK distributor for Getinge La Calhene, and Aquila has most recently become a wholly owned subsidiary of Cyclife – EDF Group.
"This is an exciting opportunity for Aquila and Jacomex as the demand for the highest quality gloveboxes from proven manufacturers is unprecedented, both companies know each other very well and we share the same values; elite and ethical"
Dave Barker, CEO, Aquila
"We are very pleased to strengthen our relationship with Aquila. Our agreement provides both our companies solid ground to build a long-term partnership. I am thankful to the teams at Aquila and Jacomex for their support and enthusiasm in working together to meet the expectations of the challenges ahead."
Christopher Dane, Director for Business Development, Jacomex
Aquila Nuclear Engineering Ltd
Aquila Nuclear Engineering is a wholly owned subsidiary of Cyclife – EDF Group, with offices and workshops in Winchester, Hampshire, UK. Aquila is commercially active in the following 5 nuclear sectors:
Decommissioning and Waste
Plant Life Extension (PLEX) and Fleet Critical
Nuclear Defence
Nuclear Science
Nuclear New Build
Nuclear Medicines
Jacomex
Jacomex is wholly owned by the Gloveboxes Group, with offices and workshops in Dagneux, Ain, France, and a commercial offices in New Delhi, India. The group is also present in the USA with its subsidiary Inert Corporation, and in Northern France with Erea Pharma.
Jacomex is commercially active in:
Nuclear Science,
Nuclear Civil,
Nuclear Defence,
Nuclear Medicine
and in several industry sectors including:
Academic and Laboratory,
Pharmaceutical, Medicine, Life science,
Aircraft and Aerospace,
Chemistry,
Additive Manufacturing,
Battery and Solar Panel
TRADE, PRESS & MEDIA CONTACT:
Drew Corbett
Commercial Director, Aquila Nuclear Engineering
dcorbett@cyclifeaquila.com
(0)1962 717000
(0)7852 969150