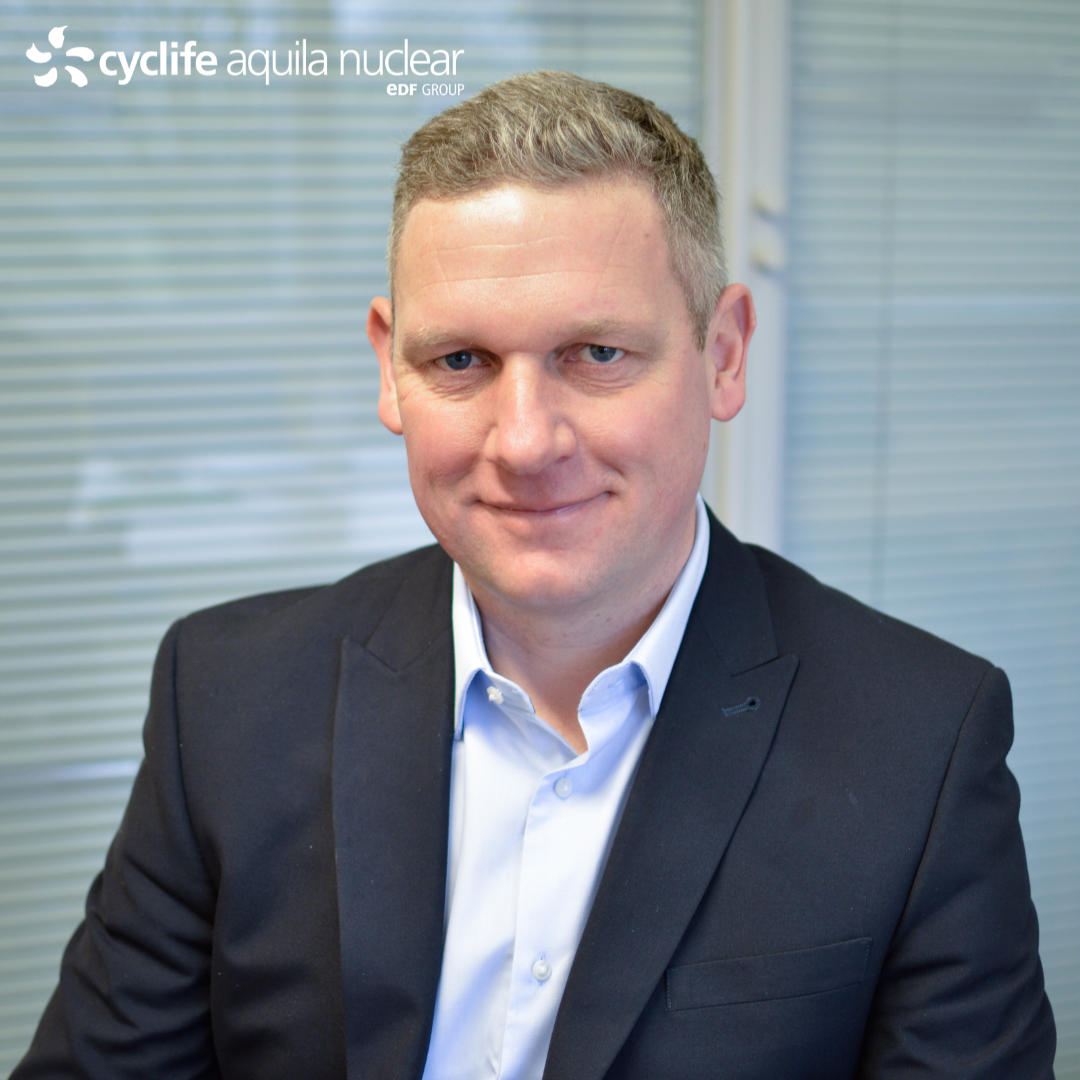 Cyclife Aquila Nuclear announces a new Managing Director
We are incredibly excited to announce the appointment of Drew Corbett as the new Managing Director of Cyclife Aquila Nuclear, effective 1st August 2023. Having served as Commercial Director, Drew brings with him a wealth of experience and his expertise in business strategy, coupled with a deep understanding of our operations and market dynamics, positions him perfectly to lead our organisation in to the future.
Drew takes over from Dave Barker, who stepped down as CEO on 31st July 2023, having been in the role for over 12 years when Cyclife Aquilla Nuclear was first established. We are equally delighted to announce that Dave will remain part of the Aquila team, now serving as its Director of Strategy.
Whilst our day-to-day business will remain the same, we are excited to see the progression and future of Cyclife Aquila Nuclear under Drew's leadership with the support of its Executive Leadership Team and the wider business. We spoke with Drew about his new appointment:
'It is a huge honour to be appointed as Managing Director for Cyclife Aquila Nuclear and I am extremely excited.  
Firstly, I would like to thank Dave Barker and the amazing team at Cyclife Aquila Nuclear. Aquila Nuclear Engineering Limited was Dave's vision, and he has had the determination, passion, persistence and industry knowledge to turn his vision into the impressive business that we see today. Our team have embraced the transition into to the Cyclife group, whilst continuing to perform in line with our values, 'Elite & Ethical'. 
Secondly, I would like to thank the team at Cyclife for their support in ensuring that our transition into the group was smooth and for affording me this opportunity. 
The Nuclear Industry faces some amazing challenges over the coming years, and I believe that we are perfectly positioned, alongside our fellow Cyclife subsidiaries, to play a key role in providing the best possible solutions, whilst providing a fantastic environment for our people to grow and develop.'
We believe the transition will be seamless, given Drew's deep-rooted understanding of our company and its values. We are also optimistic about this new chapter in our journey and anticipate continued success and growth under his leadership.
Please joins us in welcoming Drew in his new role and extending your support as we embark on this exciting new phase.
Cyclife Aquila Nuclear
Cyclife Aquila Nuclear offers Engineering Solutions in the specialist areas of Glovebox Technology, Shielded Facilities, Remote Handling Systems and Transport and Packaging to the following nuclear markets- decommissioning, new build, defence, science, and medicines.
Cyclife
Cyclife is a subsidiary of the EDF Group dedicated to the dismantling of nuclear facilities and the management of radioactive waste. It combines industrial waste treatment sites in the United Kingdom, Sweden and France with advanced engineering capabilities through its subsidiaries Cyclife Engineering, Graphitech and Cyclife Digital Solutions, which enable it to offer its customers a wide range of complementary services in Europe.
Media Enquiries
For media enquiries, please contact:
Olivia Tant
Marketing & Communications
Email: otant@cyclifeaquila.com