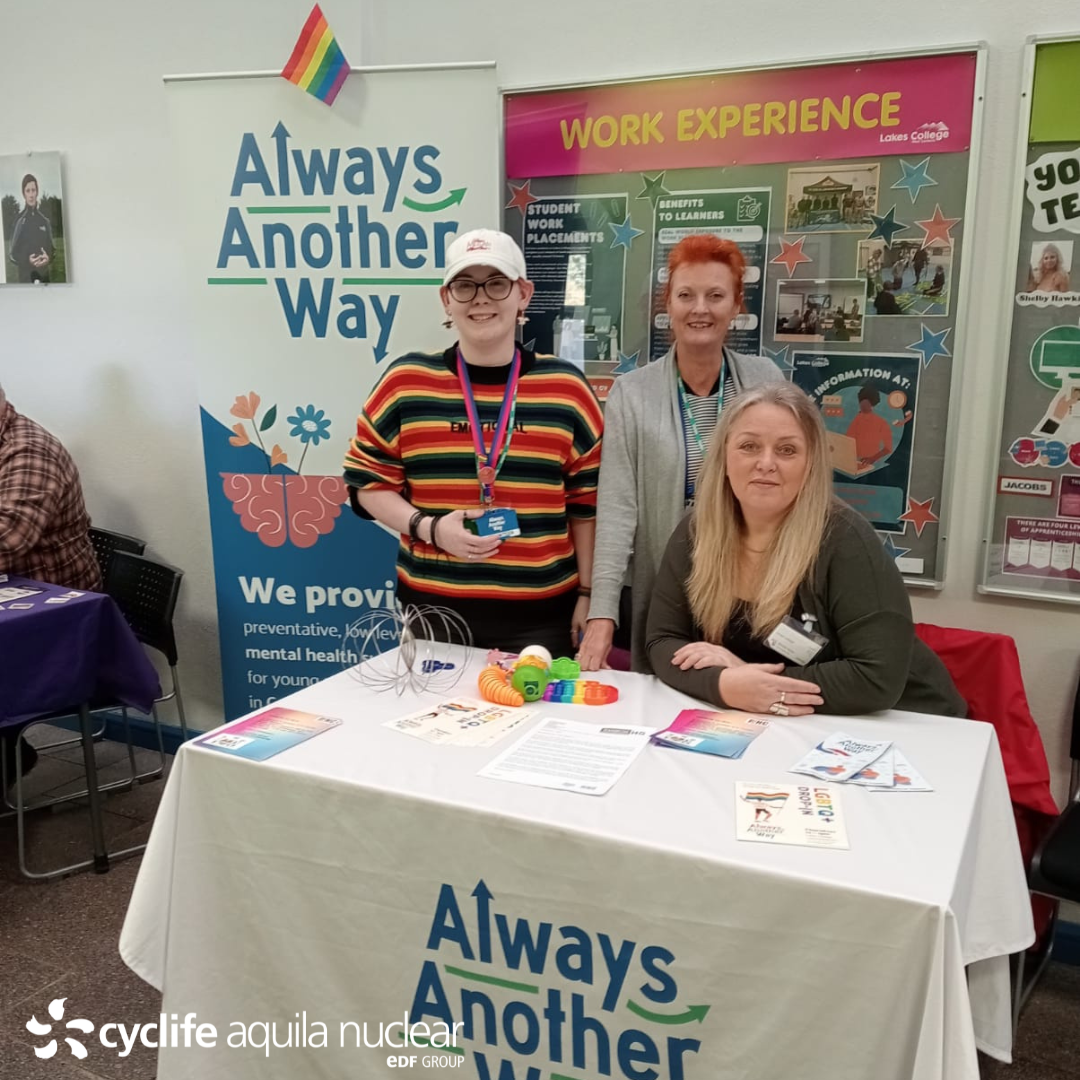 Cyclife Aquila Nuclear supports mental health in Cumbria with charitable donation
Cyclife Aquila Nuclear is proud to announce its recent financial contribution to the Always Another Way charity in Cumbria. As part of Cyclife Aquila Nuclear's commitment to delivering positive social impact in Cumbria, this charitable contribution supports Cyclife Aquila's dedication to mental health initiatives. Always Another Way aims to enhance mental health support services for children, young people, and adults in Copeland and Allerdale, empowering the local community to overcome challenges and achieve mental well-being.
Always Another Way is a vital community interest company dedicated to delivering low level mental health support for young people and adults in the West Cumbria region. The organisation plays a crucial role in providing preventative mental health support services to individuals from diverse backgrounds. The passionate team comprises professionals from a wide range of disciplines, all united by their dedication to making a positive difference in the lives of those they serve.
Cyclife Aquila firmly believes in the importance of mental health and well-being for individuals and the broader community. Through this donation, the company seeks to actively contribute to the betterment of mental health support services in the region. By collaborating with Always Another Way, Cyclife Aquila aims to reinforce the CIC's efforts in promoting resilience, self-confidence, and overall emotional well-being among the community's most vulnerable members.
Commenting on the donation, Drew Corbett, Managing Director of Cyclife Aquila Nuclear, stated, "We are thrilled to support Always Another Way with their exceptional mission to provide mental health support in Copeland & Allerdale. Mental health is a fundamental aspect of overall well-being, and we believe that access to proper support and resources is vital in fostering a healthy community. As a company, we are committed to making a positive impact, and we recognise the significant role that Always Another Way plays in addressing mental health challenges. This donation represents our heartfelt commitment to the well-being of the local community. Moving forward we will also be providing operational support, from a number of our business functions to assist in its growth and development."
The generous contribution from Cyclife Aquila will aid Always Another Way in expanding its outreach and providing accessible mental health support services to an even broader spectrum of individuals in need. By supporting preventative measures and early intervention, the charity's dedicated team aims to reduce the long-term impact of mental health challenges and foster a more resilient community.
"We are delighted to have received this generous donation from Cyclife Aquila, which will enable us to continue our much-needed work in West Cumbria." said Lyn Cavaghan, Executive Officer at Always Another Way. "We get some amazing feedback from our clients on the value and benefit of our service to them, and it is enormously satisfying to our small team that we are making such a difference to the lives of so many people in our communities".
Cyclife Aquila Nuclear looks forward to continued collaboration with Always Another Way and other local organisations to drive positive change and improve the well-being of individuals in West Cumbria.
Notes to Editor:
Cyclife Aquila Nuclear offers Engineering Solutions in the specialist areas of glovebox technology, shielded facilities, remote handling systems and transport and packaging to the following nuclear markets: decommissioning, new build, defence, science, and medicines. Cyclife Aquila Nuclear is a subsidiary of Cyclife EDF Group, a group dedicated to the dismantling of nuclear facilities and the management of radioactive waste. It combines industrial waste treatment sites in the United Kingdom, Sweden and France with advanced engineering capabilities through its subsidiaries Cyclife Engineering, Graphitech and Cyclife Digital Solutions, which enable it to offer its customers a wide range of complementary services in Europe.
Always Another Way are a small third sector organisation based in West Cumbria and provide valuable, and much valued, low level mental health support to their clients, aged 11 years and above, via one-to-one coping strategy advice appointments, group support sessions, including sessions for members of the LGBTQ+ community, complementary therapies and short courses on mental health awareness. It is also able to offer a higher level of support to some very specific clients from a fully qualified therapist. Referrals come from a variety of sources, including social prescribing teams, GP's and schools.